Welcome To Our Nursery...


"What time will snacks be served?"




...where kittens learn at a young age




to expect a life of ease, comfort, privilege, pleasure,




and intellectual stimulation




on a daily basis.

If you are interested in being owned by one of our kittens,




please take a moment, click on the link above,




and tell us a little bit about yourself!




I'll pass your information on to the cats.


Theirs will be the final decision. Thanks!

If you are interested in adopting, please fill out our Questionnaire before contacting us. Thank You!!!

~Available Kittens~
Seven Streams Proudly Presents:



All kittens in this litter have been reserved!!






RESERVED for Karen


A very big, wide load boy with gorgeous mackerel striping.
He has a thick, heavy tail with a big tail tip.


A real beauty.






RESERVED for Lauren and Matt




Also a big hefty boy with mackerel striping. Love his dark good looks.






RESERVED for Jesse


A beautifully marked mackerel female, as big as her brothers.
She also has a thick heavy tail with a big tail tip.




RESERVED for Rosemarie




Such a sweet girl, rapidly gaining in size to her siblings.




"Haylo"


RESERVED for Mark, Deborah and Bono




This girl has a rich and full coat with classic tabby markings.




The crown on her head is so unique, it looks like she has a gem set in the center of her forehead also.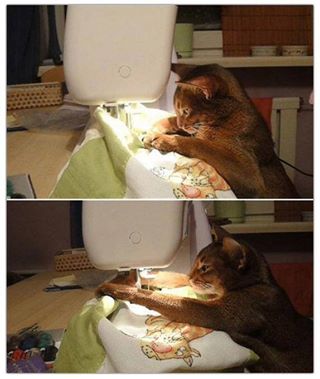 I'm training the cats to help me with my sewing business.
They are quick learners and very nimble fingered. They seem to enjoy the work.

"I love cats because I enjoy my home; and little by little, they become its visible soul." -Jean Cocteau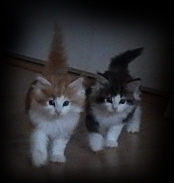 Never attempt to outrun a kitten. You Will Lose.
A cat isn't fussy - just so long as you remember he likes his milk in the shallow, rose-patterned saucer
and his fish on the blue plate. From which he will take it, and eat it off the floor. - Arthur Bridges

NEWS FLASH...NEWS FLASH...NEWS FLASH...
UPDATE October 2014:

Aharon is out of Seven Streams Alynxa and Seven Streams Archie!!!!! Big Congratulations to him and Karla of
Rikarkatts Cattery!!!!!

Update: Aharon is now QGC which is as high as they go
for the preliminary to being a Supreme Grand Champion ! ! !
So he's gone from CH, to DGC, to TGC and now QGC. He did the triple and Quad in the same show July 13, 14. WOW!

One of our kittens born out of Seven Streams Archie and Seven Streams Alynxa
is now a Double Grand Champion! Working towards his Triple Grand!
Congratulations to Karla and Aharan!!! Here are pictures of our beautiful Grandson: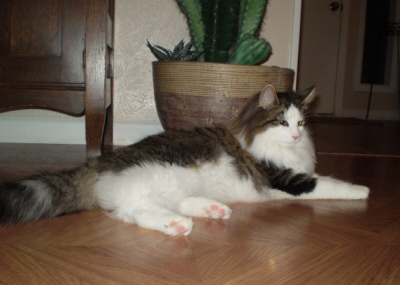 Cat lovers can readily be identified. Their clothes always look old and well used.
Their sheets look like bath towels and their bath towels look like a collection of knitting mistakes. - Eric Gurney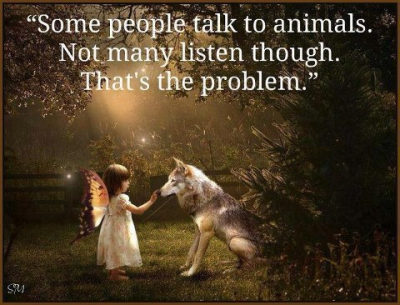 ~ Always give generously.




A small bird or rodent left on the bed tells them...




I care. ~
GOOD NEWS!!!!!!
I spoke with a lady at the USDA on the phone,
so I could get a better understanding of the new rule for pet adoptions.
She said if a breeder has less than 5 breeding females on their property
they are still allowed to sell and ship pets.
So we still have shipping available.


Our Cattery Policies...


Shipping and Adoption Information
(Two kittens ship for the price of one, under six months of age!!!)

Adoption fee must be paid in full two weeks in advance of placement, thanks!




Did you know that the purring of a cat or kitten is a healing force?
It can help lower blood pressure, accelerate the healing of a broken bone, and more.
Kittens have 2 purrs, one when they are happy, and one when they are in distress.
Both of these are healing purrs.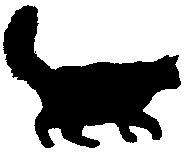 Norwegian Forest Cats...bet you can't have just one!



We accept PayPal payments, the safe and secure way to pay online.
If you do not have a PayPal account, you can sign up for one today!
Click here to go to the PayPal login page: https://www.paypal.com.